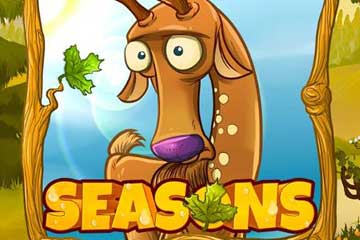 Seasons is a new pokie developed by Yggdrasil Gaming. It is theme around the four seasons of the year. It is not a new concept in the industry but it has left us with some great games.Yggdrasill have only been around since 2013, when they started developing games. They have built up an impressive repertoire of games, and a reputation for themselves in their relativity short time, in the Industry.
What we like
It is a good looking game, with a tidy interface and crispy graphics. The reels are transparent which lets you have a good look at the tasteful background image behind it. The layout of the background image stays the same, but with animations and colour, the pokie progresses to a new season, once every ten spins.
The animations are really well done, in autumn for example, crisp brown leaves blow across the reels. There are no internal borders in the 5×3 reels. The symbols float in the air and are animated to move ever so slightly. It has a nice effect adding subtle movement to the reels. The high value symbols are strawberries, mushrooms, a blue fruit and some nuts.
They look a bit odd and lumpy, which we think was a weird choice of artwork. The low value symbols are all card suites, but they are designed to look like leaves. We like the panel which is custom designed and has a nice wooden texture.
>>> Give Seasons Slot Machine a Try Now – CLICK HERE TO PLAY FREE <<<
There is an interesting range of features tied to the wilds in the game. Each season has a different wild with a different feature. This is a nice base game feature, which keeps the game interesting. We will list all of the season's features, but more information about it is available in the info section of the game.
Winter: A rabbit jumps across the reels, and deposits a wild when it lands. It is an expanding wild feature.
Spring: The owl themed wild will give you a free respin, and pay any wins it makes. The owl will also move around, either a space vertically or horizontally, until it falls of the reels, although I guess it technically flew. The reels will continue to respin until there are no owls on them.
Summer: When the deer wild lands on the reels it will expand in a cross pattern, meaning there will be four new wilds and the reels. This great feature is almost guaranteed to make a win.
Autumn: The fox wild need to land in a payline to have an effect, but it will multiply the value of any payline, by a factor dependant on how many there are connected to the payline.
There is also a free spins game, which apart from there being more wilds is identical to the base game. That is of course if you forget that you are given spins free, at the value of the bet that unlocked them.
What We Don't Like
There is not much bad we can say about this pokie. The artwork for the symbols is a little weird and we are not too fond of it. But it is not really a big deal and comes down largely to personal preference.
Is This Game Worth Playing?
It is worth playing. The wilds are a great feature and it feels like you are always winning, or waiting for the next feature. It is a well-designed game, with nice gameplay among other things. We think that this is a great game from Yggdrasill and recommend it whole heartedly, to people who like nice things.
>> Play This Pokie Now & With $/£/€ 200 Bonus +10 Free Spins <<