SunTide is a new game developed by Microgaming. It is themed around a sunset over the ocean. We think they are trying to build on the hype, for the upcoming Northern Hemisphere's summer. It is a bright yellow and gold background, with some palm tree silhouettes in the distance.
What we like
SunTide has great winning potential. A jackpot in the base game is an impressive 1,222 x stake, which increases to 3,333x stake. In the free spins feature. We like the free spins feature.
Microgaming has done well to differentiate it from the base game. They have included the expanding wild feature and placed it on all three middle reels. It is a rubbish feature in the base game, but works quite well when on three reels. You are given 15 free spins when you land three of the scatter symbol anywhere on the reels.
There is an option to retrigger the game mode for a thirty spins, which just screams big winning potential. We found SunTide to be a medium variance game. As we have come to expect from Microgaming, all the symbols have nice values and you win often. This game will hold a bankroll, steady and you get more game time for your dollar. It's unfortunately the only thing Microgaming have gotten right in this title.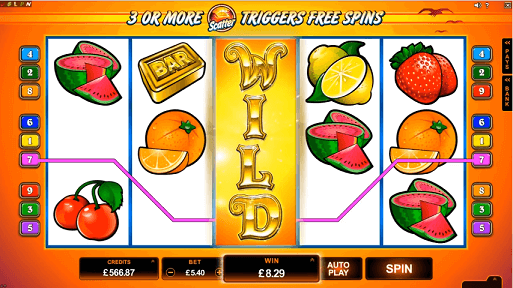 >>> Give SunTide Slot Machine a Try Now – CLICK HERE TO PLAY FREE <<<
What we do not like
SunTide, is not a well themed game. Apart from the background, nothing is related to the summer vibes this game is trying to create. The reels have generic fruit symbols, which we have seen in a thousand pokies just like it. Microgaming has made no effort to differentiate this game. They have included those ugly little box things down the side, and have used a generic panel.
We do not like the games graphics and animations. It uses old fashioned payline, which draw through the boxes. We hate these and think all developers should animate paylines, because it looks much better. The symbols flash on and off the reels when they are part of a win, and the whole thing looks tacky. Even the expanding wild animation is dated.
Microgaming almost nailed a retro theme without trying. It is not a well-designed game. The panel is a generic black thing, which contrasts the theme. They have been using this panel in all their new game. We cannot understand why, a company this massive can't custom design a panel for every game. It always looks better. We want to put our coins into quality games, which look and play nice.
The expanding wild is not a good feature. They work well in other games, so all we can put it down to is the fact it is in a 9-payline game, which is only three symbols high. It is confined to the third reel, meaning that if you want to use it you have to be lucky enough to line up a symbol across two reels and land the coin that triggers it. Because it is only a three symbol high pokie the wild can only substitute three symbols. We found that we hardly ever landed the wild and when we did, it still did not make wins.
Is this game worth playing?
This game is not worth playing. It is an ugly pokie, we have seen countless times before, which does nothing to differentiate itself. To be fair, it has good base game play, and you will win often, and above wager.
The features are not very good. The free spins game is the better of the two. We found that the expanding wild had almost no effect on the game, because of the amount of paylines, and it was confined to the third reel. To sum things up you can play this game, if you like, but we will not be.
>> Play This Pokie Now & With $/£/€ 200 Bonus +10 Free Spins <<