Dragon Dance is a new pokie from Microgaming, one of the oldest pokie developers on the scene. They released the original online casino in 1994.Since then, they have developed over 800 titles, and become one of the biggest pokie developers there is. Their games, do the basics right and always include a good jackpot, RTP and features, but they sometimes fall down aesthetically. They are an older company and have a certain way of doing things.
Their pokies tend to all look very similar to one another and have more of gameplay, than aesthetics, approach to development. Dragon Dance has an oriental theme, specifically Chinese. Intending to cash in on the hype and festivities of Chinese New Year, this pokie has thrown together a bunch of oriental colours and symbols.
What We Like
Dragon Dance is a 243 payline pokie, which just so happens to be our favourite number. With this many ways to win, any symbols that match up on the reels are going to equate to wins. This really takes the guess work out of what, is and is not a payline.
We like the Free Spins game. It is unlocked with the Firecracker Symbol. You are given 15 free spins, which we thought was generous, to make paylines paid at the bet that won the spin. There is an additional 3x multiplier on all wins, won in the Free Spins Game.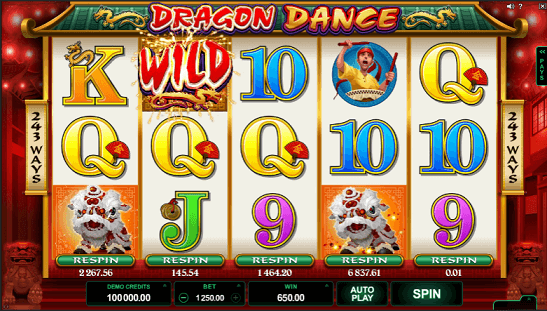 >>> Give Dragon Dance Slot Machine a Try Now – CLICK HERE TO PLAY FREE <<<
This is not a bad bonus game. Fifteen spins is quite a few, and factor in the 3x multiplier and we have found ourselves a high reward bonus game. Dragon Dance has a Respin Reel Feature. At the bottom of every reel, there is a button. Pressing this button will respin the reel on top of it.
There is a variant cost to use this feature and it is calculated depending on the symbol on the reels, and how likely the repsin is to win, and what it wins. To put it in layman terms, if the spin will win a lot of money, it will cost a lot to spin that reel. This game feature, is nice because it is a bonus feature completely of your own controlling.
You do not have to get lucky and wait for the reels to land this feature. At any time, you can press the button and have the reels spin. The downside, is obviously that it costs a wager, but this is the nature of pokies , it is a game of chance. And the chance of you landing a symbol on one reel is a lot greater than that of landing it across five, so we can justify this one.
What We Don't Like
We don't like the overall appearance of this game. It is so often the case with Microgaming pokies , their games are archaic, leftover from an era, when we ran pokie games on machines, with the power of a calculator. It is not an ugly game, it just does not have much going for it. There needs to be something, anything to differentiate the game from the countless others like it.
Is this game worth playing?
This game is worth playing for the Free Spins Game. Microgaming does the basics right. And if all you are after is a simple game with some great features, then by all means play Dragon Dance.
If you are looking for a pokie game that is not just scarping by, but stands out as exceptional, than this is not the game for you. This might sound silly and pretentious, but we are firmly of the opinion that if we are going to feed a game money than it needs to do more than just the basics.
>> Play This Pokie Now & With $/£/€ 200 Bonus +10 Free Spins <<