DJ Wild Is a new pokies from ELK Studios released December 2015. ELK are a new and relatively small player, in the online pokies scene.  They were founded in 2012 and do not have too many titles to their name. That being said, the games they have made are, spectacular, innovative and graphically superior to what some of the biggest names are putting out there.
DJ Wild has an Electronic dance music theme. It lets the player live out their electronic music career, well not really, it is actually a 5 reel pokies game, but that is what they are going for.
What we like
From the moment the intro video fills the screen you get the impression that is game is going to be a bit special. It shows footage from popular EDM scenes, and it would not be out of place in a Hollywood movie. The interface loads and the reels are not in a frame with a panel down the bottom of the screen. They stretch across the whole screen taking up the entire interface. The spin button is an opaque white circle off to the side and it is layered on top of the reels. It looks really good, among the nicest layouts we have ever seen.
The game has its own soundtrack, produced by a Stockholm DJ. The mix also intensifies at clutch moments of the game, like when about to make a pay line and the reels spin faster. The animations are all great, all the symbols pulsate, and the big win animation looks amazing. Are you getting the sense we like this pokies?
DJ Wild has a sticky wild feature. The Wild symbol, has six different variations based on common DJ visual effects, smoke, confetti, strobe light, that kind of thing. The Wild symbol is an expanding wild and expands either vertically or horizontally dependant on the symbol. When you land a Wild symbol, you also get a free spin and the Wilds stack. Every winning combination you make, gets you another Wild and a free spin.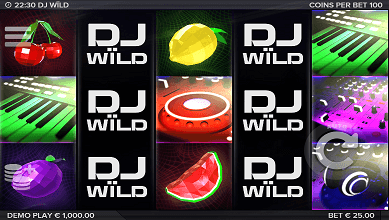 >>> Give DJ Wild Slot Machine a Try Now – CLICK HERE TO PLAY FREE <<<
The DJ Wild symbol is also how you get the games jackpot. Since the symbols stack, if you are lucky enough to land enough winning combinations, you can fill reels 1,2,4 and 5 with Wilds. Reel three does not have a wild symbol, but if you fill all the other reels with Wilds the jackpot symbol spawns. If in a fantastic display of luck, this symbol lands on reel three and completes the winning line, your life is a bit changed. The Jackpot for doing this is 50,000 coins.
Another feature unique to this game, is it has automated betting strategies. DJ Wild has four betting strategies, which will change your bet automatically dependant on the results of your previous spin. This is a smart and useful feature as who doesn't religiously alter their bet after every spin.
What we do not like
There is not much you can fault on this game. It does not have a bonus game, but after putting up such a brilliant base game, we feel it does not owe us one.
The gems are worth quite a bit less than the main symbols, and it would be nice if these values were closer together.
Is The Game Worth Playing?
The game is about as worthy as it gets. We like this game. It looks, plays and feels fantastic. If you play one pokies game this year, it should be this one.
A bit used cars salesman I know, but it really is a great game. The expanding, stacking wilds offer frequent wins and they are not just little wins, but massive bankroll filling wins.
>> Play This Pokie Now & With $/£/€ 200 Bonus +10 Free Spins <<