4 Seasons is a new pokie developed by Betsoft Gaming. They are one of the better known developers in the online pokie industry. They have been making games since the company was founded in 1999, and have developed over 180 titles.
4 Seasons is looking to join their ranks, with a Chinese Zodiac theme. It is not the first time we have seen a developer make a Chinese Zodiac game, and it certainly won't be the last. Betsoft will have to make a memorable game, to dominate this theme.
What we like
4 Season is a pretty pokie, with exceptional graphics and visual aspects. It looks clean and crisp with a tidy interface and quality animations to tie it all together. First impression matter, and when this game loads you will be treated to a pleasant looking pokie. We like how the theme has been integrated into the gameplay and design of the pokie. Let's have a quick brush up on our Chinese Zodiac, it is a really old system which draws a connection between people behavioural aspects, the movement of Jupiter and 12 animals.
All of these twelve symbols are represented on the pokie as symbols. Once every 30 spins the pokie will move into the next zodiac and ever 90 it will move into the next season. When the seasons change, the background image is replaced with one depicting the climate of the next season. All of the seasons are set in the same place, but each has a completely different feel because of the animations.
There is a snow animation for winter and in spring some flowers grow. It is all very well done, and is a clever use of the theme, which incorporates the passage of time into the pokie. The zodiac also has an effect on the bonus feature. In the bottom, left of the screen there is a Seasonal Wheel, which records the passing of the zodiac.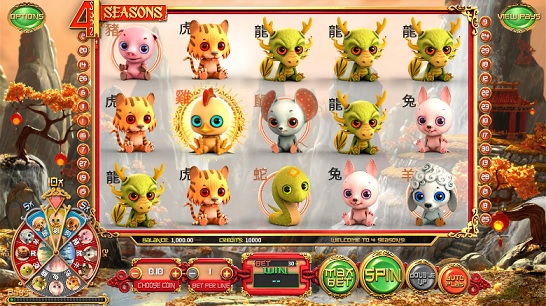 >>> Give 4 Seasons Slot Machine a Try Now – CLICK HERE TO PLAY FREE <<<
If you are in the year of the monkey, like we currently are, and you land a win made of monkey symbols, the win is multiplied 10x. The other animals on either side of the zodiac also have a multiplier of lesser value. We really like this feature. It is lucrative, and breaks up the gameplay, but we like it mainly because it is clever. Another big plus for us is that all of the animal symbols have the same value, and they are well valued. You should expect frequent wins above the wager.
There is a block-multiplying feature, which rewards you with a multiplier for landing symbols in block. It is exactly what is sounds like and requires very little imagination. The block must cover at least three row and be two reels across. If you manage to make one of these with the animal in season, expect phenomenal winnings. The biggest block you can make will take up all five reels and it rewards a 10x multiplier.
4 seasons keeps on giving. There is also a free spins game, which gameplay identical to that in the gameplay, but you know free. The amount of scatters you land on the reels, determines how many free spins you get. 3 gives you 8, 4 gives you 12 and 5 an impressive 20 scatters. We like when games reward more spins for landing more scatters, because there is some logic to it.
What we do not like
We have nothing bad to say about this game. If we were to be meticulous, maybe doing something to differentiate the free spins mode from the base game. We played the free spins a few times and won nothing for the whole 8 spins. This just comes down to luck, and we think this game has good enough gameplay that it does not need a free spins mode. The fact that it has one is an added bonus.
Is this game worth playing?
This is a quality title from Betsoft, which some great features. It is a well-designed game with great aesthetics, and winning potential. We recommend this game, and hope you enjoy it as much as we did.
>> Play This Pokie Now & With $/£/€ 200 Bonus +10 Free Spins <<